Zooming to Crimea in the Cahill-Keyes Multi-Scale Megamap, Beta-2

How to easily view a 9,000 square foot
Megamap pdf without getting lost:
panning & re-sizing with free Foxit reader
Gene Keyes
2014-03-11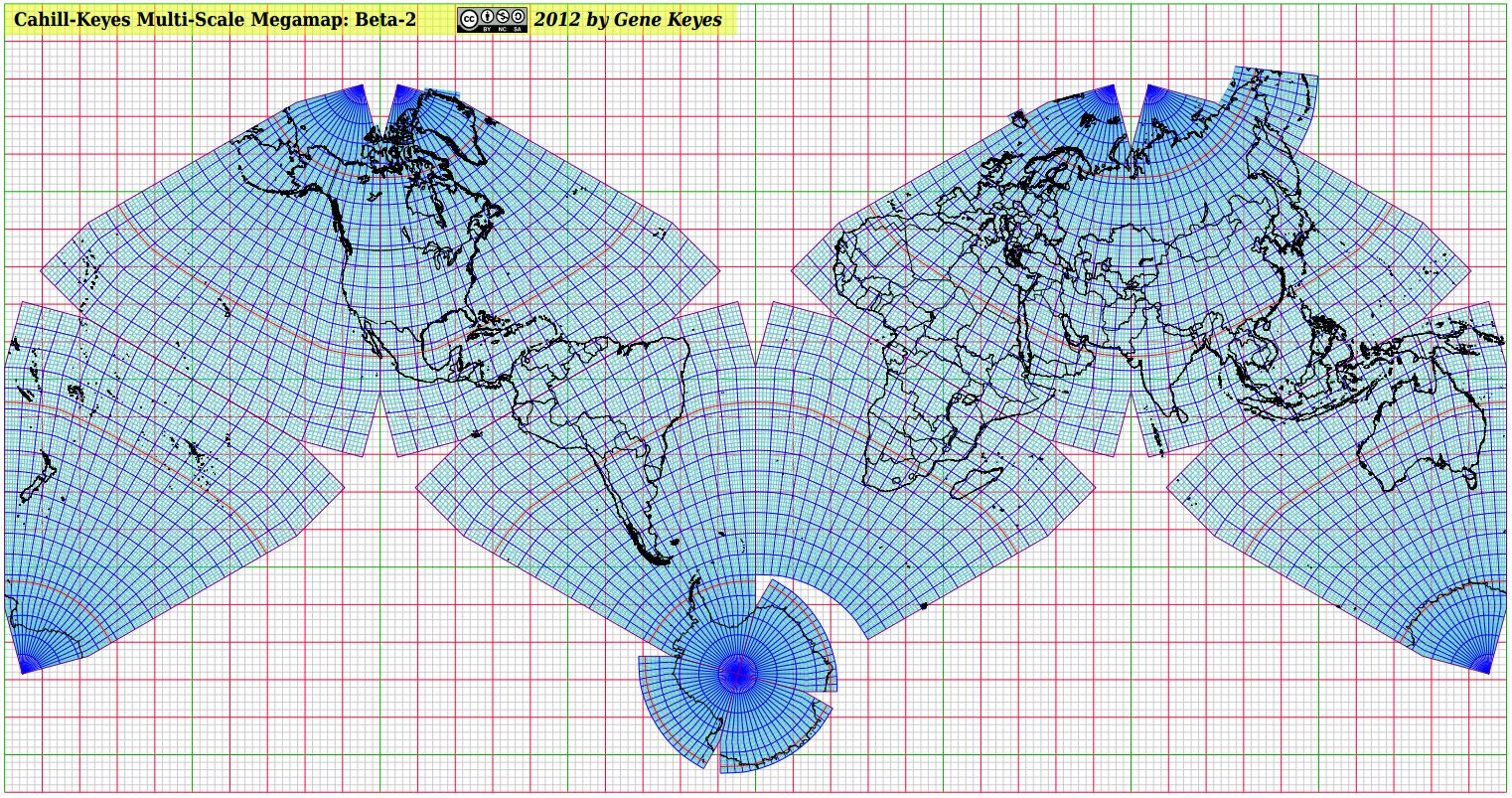 Above is a jpeg miniature, not the full-size Megamap pdf.
Note: this page supplements two earlier elaborations of the Beta-2. Here I only focus on how to use the free Foxit pdf reader to easily navigate the Megamap pdf at its humongous size of over 9,000 square feet. Even I, the map's designer, tended to get lost in transit when trying to roam the Megamap at its full original scale of 1/1 million. But the Foxit pdf reader solves that problem, and makes it a breeze to instantly relocate to any sector, zooming in and out, and panning smoothly in any chosen direction. (My previous discussion of Foxit was less detailed, and did not include screenshots, nor the importance of using "Fit Page" and "Marquee" in tandem.)
The gleam in my eye has been a full-size hard copy in a gym or plaza, 40 m x 20 m (132' x 69'), but meanwhile you can easily view this free 35 MB pdf file at full size on your own PC, via the
free Foxit pdf reader
.
Heretofore, the Megamap's original vector Draw file (odg) from Apache OpenOffice could vary the size and scale, but was much too slow and klutzy and crash-prone to be useful. Exporting the odg to a pdf file made for nice sharp printouts and more streamlined viewing. But Adobe's Acrobat is also too slow to be worthwhile after every move, it spends time re-drawing the entire map. The Chrome browser does a faster rendering, but spoils the image beyond 67%.
However, I recently discovered that Foxit is far more flexible and faster than Adobe or Chrome; and can almost instantly portray the map at its full size, or smaller scales. Its panning function enables speedy dragging of the map to any region; its marquee function enables you to select and enlarge any given frame; and its "Zoom To" function lets you choose a large or small percent at which to see the map.
Caveats: The smallest zooming-out size is 8.33%, which is still a big chunk of the map. However, the "Fit Page" size is 1%; see below. Also, the initial loading, and "Fit Page", each take about 10 seconds on my low-end Acer Windows 7 laptop. Every other move of the map is nearly instantaneous.

There is a Foxit mobile version for Android, but with nowhere near the functionality described below. I'd love to do finger-touch re-sizing, but on an Asus MeMO tablet with Foxit MobilePDF, finger-spreading could only enlarge the Fit Page map a little, making it badly pixelated. It could not read the full-size version at all; and took 2 1/2 minutes to load the file, vs. 10 seconds in my Acer, as mentioned above.